Let me put you in the picture. Contrary to popular belief, it is possible to weave connected technology into your home, decor and lifestyle, not the other way around: technology that can either be hidden away completely or subtly blend into its surroundings.
This was the brief from Quincy Kresler and her husband, Lock, when they asked Equippd to overhaul their Clapham Old Town home last summer. The couple both work in the art world – Quincy as an adviser and Lock as a dealer – and wanted their home to reflect their collection but also be a place to live in and relax. Here, we find out how they did it.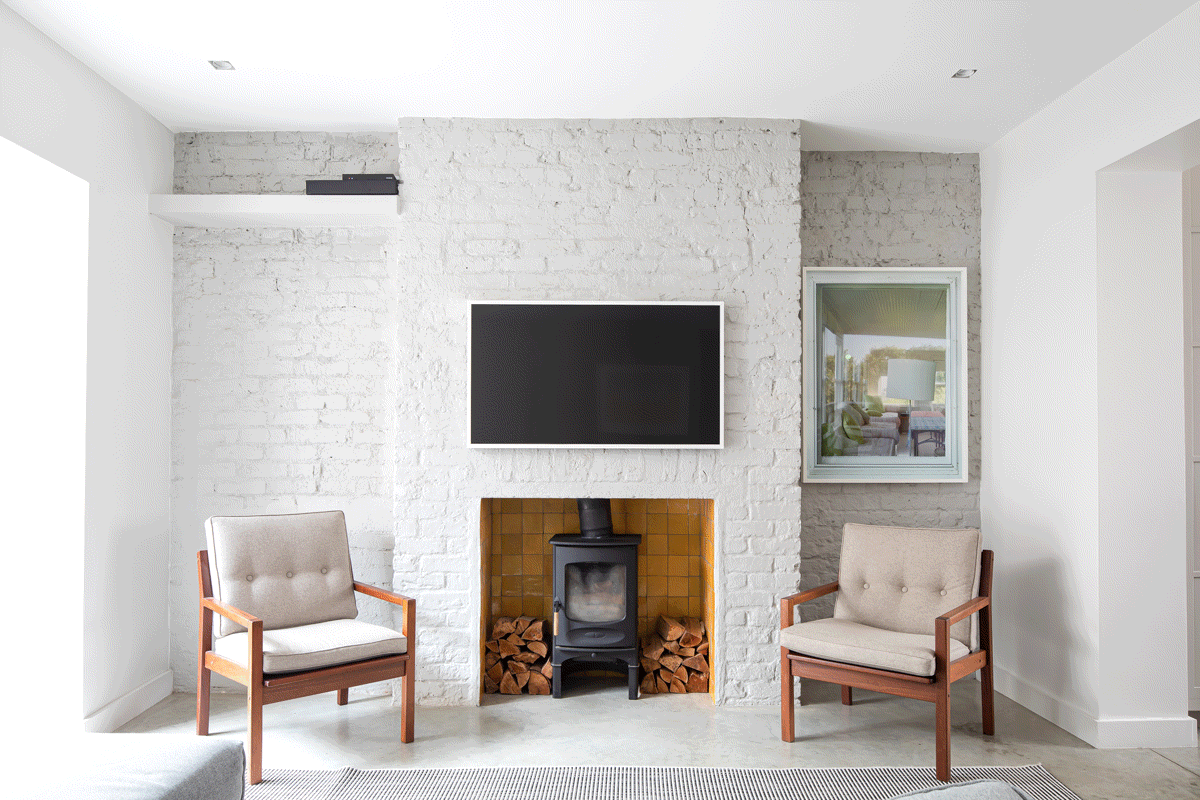 'The house is a combination of the collection we've built up over the years as well as a reflection of both our personalities, but also, I think professional passion,' explains Quincy. 'You know, there are little quirky notes here and there. Our work is so intertwined with our life – we both work in fields we are very passionate about. So we use our home in the best of all possible ways as a gallery and we love featuring art. That was the crux, and the whole scope of the project was to find tech solutions that worked with what we had rather than fight against it."
Equippd is passionate about designing technology that works in harmony with a home's aesthetics. Quincy and Lock's Victorian terraced townhouse, with its narrow proportions and period features, is a case in point. 
'It's a wonderful, historic home,' enthuses Quincy. 'I think one of the main challenges when we bought the house last year was that, although the house had great bones, and the previous owner had a great eye for interior layout, the wiring was an absolute shocker – a real mess! In essence, that was the first project: to just strip everything back out. The tech cupboard was horrifying to look at. It was like a spaghetti monster. But because we liked the bones of the house so much, we knew that we wanted the tech to be very minimal and really just blend into the surroundings.'
'The tyranny of the black screen –
we wanted to break out of that!'  laughs Quincy.
So what kind of tech 'blends' into a home that also houses an extensive art collection? Samsung Frame TVs, of course. Several are dotted around the property – there's one in the living room and one in the snug off the kitchen on the lower-ground floor. The beauty of the Frame is that it's a TV when it's on – and art when it's not. Because no matter how practical, aspirational and ubiquitous they are, TVs just don't look good.
Samsung is one of the first TV manufacturers to have addressed this issue. Instead of a black void that sucks the life out of a room, why not create a TV that behaves like art on the wall when it's off? Enter The Frame, which has been made fit into your home decor rather than dominate it. You can customise the design of its – you've guessed it – frame with a multitude of colours and when you're not actively watching it, a series of iconic artworks from The V&A, Tate and Saatchi Gallery. 
'The great thing about most of our TVs now is that people think there are art light boxes,' says Quincy. 'There's a lot of work by Doug Aitken and Jeff Walls and all of these other really great contemporary photographers who use light boxes to sell their work. So a lot of people come to our house and actually just think they're installation pieces. Yeah, so they work very well!'
And when it's on, there are all the benefits of high-quality QLED 4K Ultra HD. Aesthetically pleasing, yes, but all the benefits and practicality of high-quality viewing, too – perfect for a pair of art lovers and their family. From Netflix to iPlayer and even Apple TV+, it's got all the apps you could possibly want, supports voice commands via Amazon Alexa and room-filling sound via Dolby Atmos. Or you can pair The Frame with a decent soundbar to do its visuals proper justice. Quincy opted for a Sonos sound bar, which nestles unobtrusively under the fireplace over which the living room Frame is hung.
The only other entertainment tech on show is a Technics vinyl record player. The turntable connects to the WiFi, digitising an analogue system – modern but low key, and preserving the house's integrity and relaxed vibe.
Technology should absolutely work to enhance living. Rooms that show off art and fabulous interior design that are spaces to entertain, relax or work – or, indeed, all three – should never be overwhelmed by a proliferation of devices, wires and gadgets. 
Quincy reflects on this pared-back sympathy. 'In London homes, where you can't have whole rooms devoted to shrines of technology, you really want to have things work within the setting and have truly multi-function rooms.'
So what did Quincy think of creating her modern home with Equippd?
'We loved doing it. When people say, did you have to do a lot to the house, my answer is yeah, we did a whole lot! But you don't see it. And I think that's the sign of a good IT project. And the result is something we're super-psyched about.'