Connected homes and the smart technology that powers them are diverse, just like the people who live in them. Some homeowners require all their tech to be behind the scenes, while their decor does the talking. Others, like Equippd's client at Burlington Road in Chiswick, West London, want it all on show. If you're looking for some inspiration on all-singing, all-dancing tech, you've come to the right place. Equippd co-founder Charlie McCourt explains how the team created a smart home with a multifunctional media hub at its heart.
The client's brief was to create 'the best entertainment system to show off to his friends and entertain his family,' says Charlie. 'A lot of people come to us and want to focus on the environment, sustainability and security, but this home is now a media lover's paradise! It's a dream for anyone who's in lockdown.'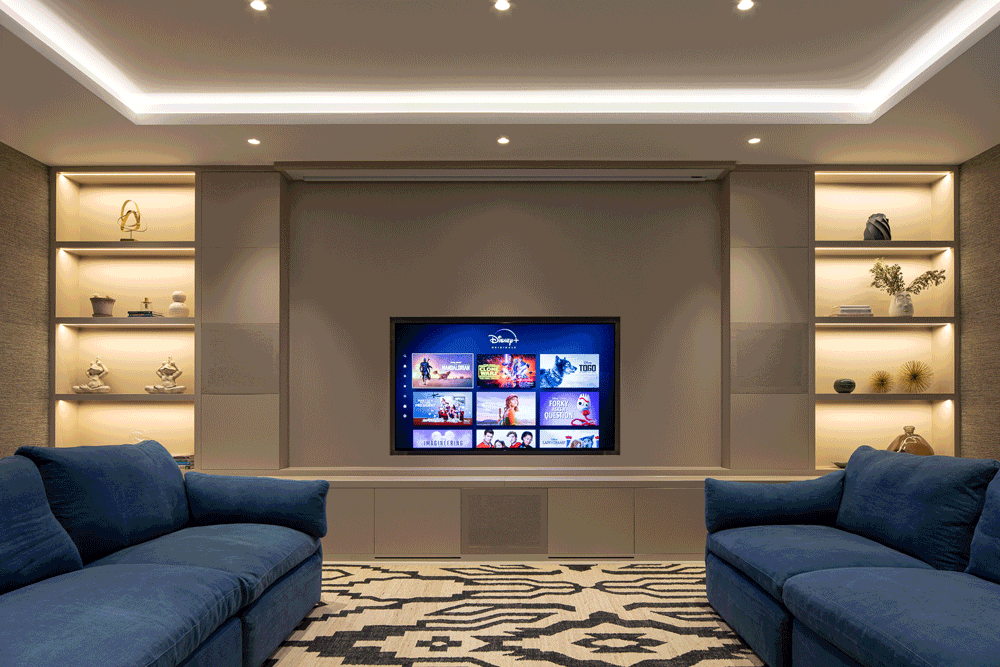 The highlight has to be the basement media room. This is where all the design, programming and set-up prowess comes together to create a truly multifunctional space encompassing a cinema, a games room, somewhere to watch TV and a space to enjoy music. 'It's an amazing room – several entertainment and environment systems work together to create an incredible, immersive space,' enthuses Charlie.
To turn it into a cinema is simple, and the entire process begins with just a single button push or voice command. Charlie talks us through the transformation. 'It has a 77″ TV and 124″ cinema screen combo. When you ask Alexa to "turn on the bloody cinema" – our client's colourful voice command! – the screen starts to descend, the projector drops from the ceiling, the lights dim slowly to dark blue (or whatever the client requires) and the TV is timed to turn off just as the screen passes so you don't miss a second of what you were watching! It's a really seamless transition.'
This room has to work hard because it has to serve as an entertainment space as well as a home cinema – no one wants to sit in a pitch-black room when they're listening to the Archers omnibus, after all. The client required a brighter room for daily use in order to watch TV, the football on a Saturday afternoon or a live concert. This is how Charlie and the team did it. 'We sourced a higher light output projector, which works better in brighter environments, as well as a grey cinema screen, which is better in high ambient lighting settings. You get a brighter, clearer image, even if the blinds are up.'